Desert Island Discs with Junior Development Manager Lucy Rose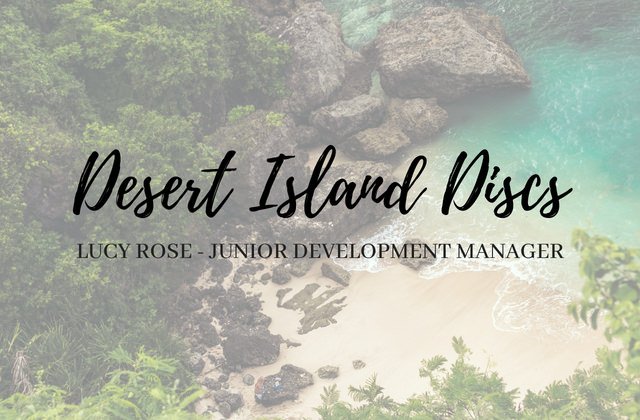 Next up in our Desert Island Discs blog series – where we asked each member of the waltonwagner team to choose eight recordings, a book and a luxury item that they would take with them if they were to be cast away on a desert island – we are joined by Development Manager Lucy Rose. Read on to find out what tracks Lucy would pick, and what her chosen items would be.
You can bring 8 of your favourite songs to the island – which ones would you pick and why?
1. September – Earth, Wind and Fire. A song that will always put a smile on my face.
2. Shake Ur Body – SHY FX, T. Power, Di. This is always queued for the final push of a run and is therefore always a motivator. I think I might need a bit of motivation if I was stuck on a desert island.
3. Melt – Jones. Just to bring a bit of chill to the playlist – I could happily listen to this song on repeat for days.
4. Morning Dance – Spyro Gyra. If you are staying at the Rose household and it's a sunny Sunday morning, you are more than likely to be woken up by my Mum playing this on the record player. It's always nice to take a bit of home away with you.
5. Club Tropicana – Wham. It wouldn't be a playlist without a bit of 80s cheese!
6. Drunk in Love – Beyoncé. The soundtrack to my university days. Many nights were spent belting this in Mbargo Bristol with the girls on the dance floor.
7. Sir Duke – Stevie Wonder. I would have the entire Stevie Wonder back catalogue if I could, but I'm sadly restricted to 8 songs.
8. Survivor – Destiny's Child. Something's got to give you hope – and who better than Destiny's Child?
You can bring one book (to accompany the Bible or another religious work, and the complete works of Shakespeare, both of which you automatically get) – which book would you bring with you and why?
Assuming a Kindle doesn't count, I will have to go for Bear Grylls World Adventure Survival Camp in the hope that I might find some useful tips.
You can have one luxury item, which has to be inanimate and can't help you escape the island or allow communication from outside. What item would you pick and why?
Tanning oil – as a self-proclaimed sun worshipper, I might as well take advantage of the weather if I'm stuck on an island.
If you would like to find out more about Lucy, take a look at her bio in the Team section of our website or read our interview with her. To find our what records the rest of our team would bring to the island, keep your eyes on the website.
About us: waltonwagner was established in 2010 by Jane Wagner and Nick Walton. We are a company who love property. We love project managing, designing, developing and dreaming all things property. We love the big picture and the devil you find in the detail. We love the fact that our clients come to us to achieve things they never thought possible with their buildings and that we are valued for our sensible, practical advice and guidance.
To find out more about the properties we have developed alongside our clients, please visit our projects page or call us to talk further on 020 7499 1377.