Desert Island Discs with Consultant Mark Tredwell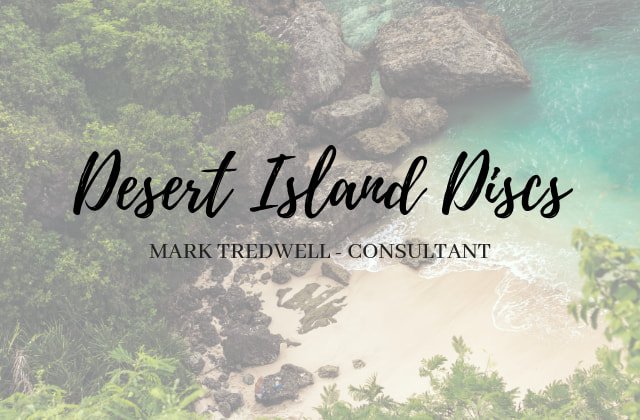 For the last instalment of our Desert Island Discs blog series for this year, we interviewed the newest member of our team, Consultant Mark Tredwell. Read on to find out which eight songs Mark would like to take with him if he was to be cast away on a desert island, and what his chosen book and luxury item would be.
You can bring 8 of your favourite songs to the island – which ones would you pick and why?
1. State of Love and Trust – Pearl Jam. It reminds me of my wild late teenage years.
2. Disco Inferno – The Trammps. It reminds me of my twenties.
3. My Lovely Horse – Divine Comedy. It makes me laugh as it's such a daft song, and also reminds me of my thirties.
4. Daddy Cool – Boney M. It reminds me of my life now.
5. Gimme Gimme Gimme – ABBA. Just for the melody.
6. The Enigma Variations (Nimrod) – Edward Elgar. It would remind me of England and the countryside.
7. A Lady of a Certain Age – Divine Comedy. Just a lovely reflective song. Neil Hannon of Divine Comedy is one of the most talented musicians of our era.
8. Hurt – Johnny Cash. Raw emotion from Cash looking back at his life.
You can bring one book (to accompany the Bible or another religious work, and the complete works of Shakespeare, which you automatically get) – which book would you bring with you?
The SAS Survival Handbook by John Wiseman.
You can have one luxury item (it has to be inanimate and can't help you escape the island or allow communication from outside) – what item would you pick?
Molton Brown's Men's Black Pepper Body wash for using under the waterfall on the island.
About us: waltonwagner was established in 2010 by Jane Wagner and Nick Walton. We are a company who love property. We love project managing, designing, developing and dreaming all things property. We love the big picture and the devil you find in the detail. We love the fact that our clients come to us to achieve things they never thought possible with their buildings and that we are valued for our sensible, practical advice and guidance.
To find out more about the properties we have developed alongside our clients, please visit our projects page or call us to talk further on 020 7499 1377.