Desert Island Discs with waltonwagner Project Manager Chris Windsor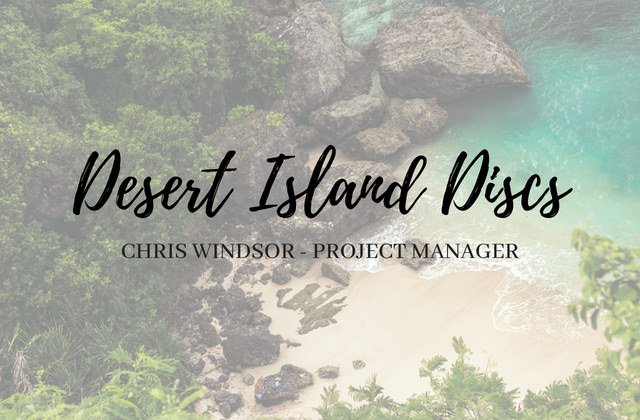 Next up in our latest blog series, Desert Island Discs – in which every member of our team was asked to choose eight recordings, a book and a luxury item that they would take with them if they were to be cast away on a desert island – we are joined by waltonwagner Project Manager Chris Windsor.
Read on to find out what records Chris would bring to the island and, if you missed the first three posts in the series, you can catch up here.
1) You can bring 8 of your favourite songs to the island – which ones would you pick and why?
1. Comfortably Numb – Pink Floyd. It takes me straight back to long lazy summers.
2. No Woman, No Cry – Bob Marley. This reminds me of fun days looking after my son – we would sing along to this as loud as we could in the car.
3. The Ghetto – George Benson. Great song, a smooth listening experience.
4. It's a Long Way to the Top – AC/DC. It reminds me of the film 'School of Rock'. A silly, feel-good movie with Jack Black – it always makes me smile.
5. Black Magic Woman – Santana. Perfect guitar with long expressive solos.
6. Boogie Wonderland – Earth, Wind & Fire. Played in a moving film called The Untouchables – a great dance scene.
7. Freddie Freeloader – Miles Davis. What a cool track.
8. We Will Rock You – Queen. It's another one of those great car journey songs, you can't help singing along.
2) You can bring one book with you (to accompany the Bible or another religious work, and the complete works of Shakespeare, both of which you automatically get) – which book would you bring?
Butcher's Crossing by John Williams. A gripping read about buffalo hunting in the American west and the knife edge of survival and self-discovery.
3) You can also have one luxury item, which has to be inanimate and can't help you escape the island or allow communication from outside. What item would you take with you?
I'd like a KTM off-road motorbike with an unlimited supply of fuel – not to escape the island but to explore and have some fun.
If you would like to find out more about Chris, take a look at his bio in the Team section of our website or read our interview with him. To find our what records the rest of our team would bring to the island, keep your eyes on our blog.
About us: waltonwagner was established in 2010 by Jane Wagner and Nick Walton. We are a company who love property. We love project managing, designing, developing and dreaming all things property. We love the big picture and the devil you find in the detail. We love the fact that our clients come to us to achieve things they never thought possible with their buildings and that we are valued for our sensible, practical advice and guidance.
To find out more about the properties we have developed alongside our clients, please visit our projects page or call us to talk further on 020 7499 1377.