WW Organises Charity Pub Quiz in Aid of the British Heart Foundation
Location: The Glassblower Pub, Piccadilly Circus
Date: Thursday 6th October 2016
Time: 6pm to late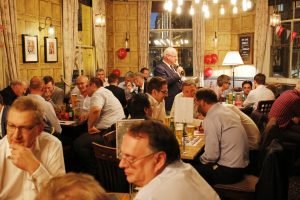 Q. What is the UK's single biggest killer?
The answer to this is why we organised our first ever waltonwagner pub quiz earlier this month. Cardiovascular disease kills nearly 160,000* people in the UK every year and we wanted to support the work the British Heart Foundation (BHF) does to help reduce this number year on year.
Our fundraising pub quiz was held on Thursday 6th October at The Glassblower Pub, Piccadilly. Sixty of our industry friends joined us to pit their wits against our Quiz Master extraordinaire to see if their table could be crowned 2016 champions.
"If you were a hippologist, what animals would be your speciality?"
The evening was a great success and lots of fun for us all even though it was said that the majority of the rounds were fiendishly difficult. We will look at these for next year but we do like a challenge so can't promise we'll make them much easier!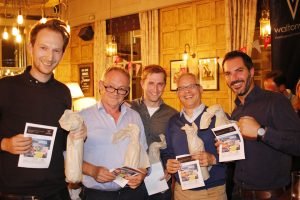 "Which sports ball had its official diameter increased by 2mm in the year 2000?"
After an evening of head scratching, deep thinking and elaborate stabs in the dark our winners were Formation Architects with a superb score of 43 points. Overall it was a close run contest with all the teams putting in a magnificent effort and all scoring highly too, but whilst it is great to have teams who clearly love a quiz, the BHF were the ultimate winners as we raised a grand total of £3,825 from the table fees and raffle. Prizes were generously donated by many fantastic companies and were as diverse as a Samsung 40" High Definition TV from Fusion Automation, through to a year's supply of our favourite breakfast cereal, Weetabix.
We had such a great time that we are going to make this an annual event and next year will be even bigger and better so please do keep an eye out for the date and start to gen up on your general knowledge.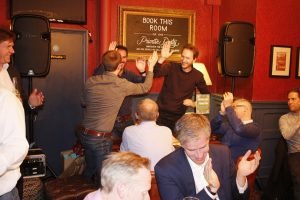 "Who had a 1993 hit with Mr Vain?"
We would like to extend our thanks to those who attended and ensured it was a success – Sir Robert McAlpine, SWP, MSMR, Craigewan, Formation Architects, Walterlilly, BTP, Purcell, Mecserve, CC Construction, and BurkeHunterAdams.
And to the following companies for donating such generous raffle prizes – Fusion Automation, Weetabix, 1936 Beer, Denise Yapp, Vital Active, Bernardis, Taylor Howes, Bloom and Wild, Ethos, and Jenny Linford.
"Which type of triangle has all 3 sides of differing lengths?"
—————————–
*statistics taken from BHF statistic factsheet UK
—————————–
 
About us: waltonwagner was established six years ago by Jane Wagner and Nick Walton.  We are a company who love property. We love project managing, designing, developing and dreaming all things property. We love the big picture and the devil you find in the detail. We love the fact that our clients come to us to achieve things they never thought possible with their buildings and that we are valued for our sensible, practical advice and guidance.
If you'd like to find out more about the properties we have developed alongside our clients please visit the Projects section or call us to talk further on 020 7499 1377.