Paradise Gardens – From Brownfield Site to Contemporary Townhouses
A slice of real estate heaven in West London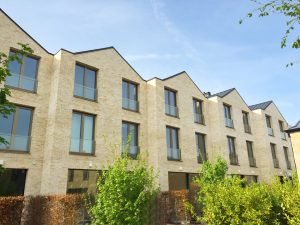 Paradise Gardens is a modern development of six new build terrace townhouses. Built on a light industrial site in the heart of the Starch Green conservation area next to Ravenscourt Park in Chiswick, this project was a unique opportunity to transform a brownfield site into new contemporary homes.
A meeting at the 2013 MIPIM Real Estate Event with the client led to the instruction for waltonwagner as both Development and Project Manager. Work began in 2014 on the 15,684 square foot build after initial planning pre-commencement conditions were discharged.
With the project team in place, waltonwagner took the lead advisor role in the site's transformation. Procured via Design and Build, with waltonwagner taking every opportunity to maximise cost efficiency without compromise to the end product.
Sites such as this are rare in London and delicate negotiations were required to ensure that the considerations of the build were met alongside the needs of all thirty neighbours and adjoining owners. Care was taken to guarantee that the aesthetic of the development complemented the local landscape; the terrace was neatly detailed in brick with zinc roofs, and the aluminium frames were carefully colour-matched to blend with the surroundings.
The courtyard uses Porphyry Setts to create six parking spaces and a concealed entrance, which leads to both private and communal gardens and the dwellings themselves. Each three storey townhouse was carefully designed to allow light into every area of the building. Large glass apertures flood the living and dining space with sun and every bedroom blends privacy with space and contemporary living.
The project completed in spring 2016 with all six townhouses being retained as part of the client's rental portfolio. Each house has been fully furnished to an exceptional standard and the private and communal gardens landscaped by Chelsea Flower Show gold medallist, Bradley-Hole Schoenaich.
waltonwagner's extension out of central London has enabled consideration of sites that are simply not available in Zone 1. Involvement in this project was rewarding for the development team and gave waltonwagner an exciting opportunity to deliver new build housing in a beautiful setting.
The Project Team
Architect – Lifschutz Davidson Sandilands
Structural Engineer – Engineers Haskin, Robinson, Waters

Interior designer – Lifschutz Davidson Sandilands
Lighting Engineer – Lifschutz Davidson Sandilands

Project Management / Development Management – waltonwagner
Mechanical & Electrical Designers – Skelly & Couch

Landscape Designer – BradleyHoleShoenaich

Main Contractor – Rooff

Cost Consultants – Measur

If you'd like to find out more about the properties we have developed alongside our clients please visit the Projects section of our website or call us to talk further on 020 7499 1377.
About us: waltonwagner was established six years ago by Jane Wagner and Nick Walton.  We are a company who love property. We love project managing, designing, developing and dreaming all things property. We love the big picture and the devil you find in the detail. We love the fact that our clients come to us to achieve things they never thought possible with their buildings and that we are valued for our sensible, practical advice and guidance.